Introducing the Free Pokemon Banner Printable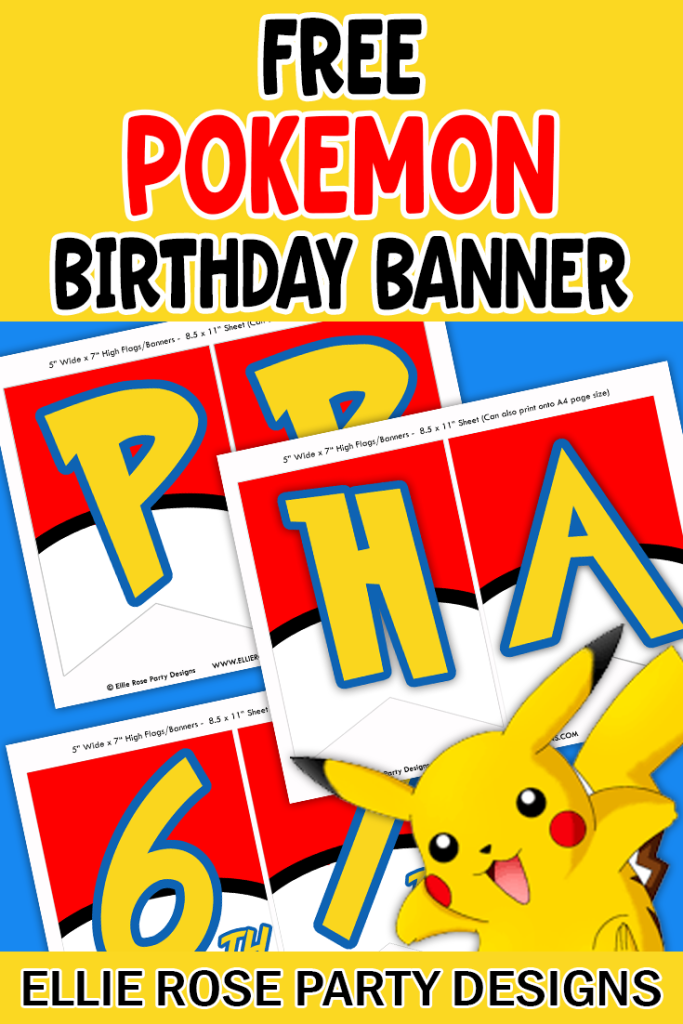 Featuring colorful Pokemon colors, this Pokemon banner printable is perfect for adding a touch of excitement to any Pokemon-themed birthday celebration. With its eye-catching design and vibrant colors, it will surely delight fans of all ages.
Simply print out the individual letters and numbers, assemble them, and hang the banner to create a festive atmosphere. Whether it's for a child or an adult, this free printable Pokemon banner is sure to make the birthday party an unforgettable event.
The banner is easy to assemble and adds a personalized touch to any Pokemon-themed celebration. The bold and vibrant colors are sure to captivate guests and set the mood for a fun-filled party. Download and print this free Pokemon banner printable today to create a memorable and exciting birthday experience for the Pokemon enthusiast in your life.
Also, if you missed any of my other free Pokemon printables so far you can check them out here
What's Included
X12 PDF Printables (the printable is available for free by clicking the red download button below)
Age's that are included 7 – 13
High Resolution PDF file, 300 dpi
You Will Need
Pokemon Banner Printable – download below
Color Printer or Visit a Local Print Shop
A4 White card stock (80gsm or more)
Ribbon, any colour you choose
Scissors
My suggestion for the printing would be, unless you have a high quality printer to use at home, I would have your printables printed by a printing shop due to the large amount of red and black ink involved in the banner design. If you are based in the United States, stores like Staples, Office Depot/Office Max, FedEx or the UPS all do a great job printing in store using their laser printers.
How to Use the Pokemon Banner
Not crafty? No problem, I will show you an example of how I assemble my banners. Below is a step-by-step tutorial that I recorded a few years back on how to assemble a banner. It is still the same process but just a different printable.
Make sure to subscribe to my Youtube Channel for more party decoration ideas and tutorials.
To use the free printable banner, follow these steps:
Download the banner template: Scroll down to find the big red DOWNLOAD button (at the bottom of the page), click on the download button to save the file to your computer.

Open the banner template: Locate the downloaded file on your computer and open it using an image editing software or a program that supports the file format of the template.

Print the banner: Once you have downloaded your Pokemon banner, go to the "Print" menu in the software and adjust the print settings according to your preferences. Make sure to select the appropriate paper size and quality.

Cut and assemble the banner: After printing, carefully cut out each piece of the banner along the provided guidelines. If necessary, use scissors or a craft knife for precision. Then, use tape, glue, or string to attach the individual pieces together, forming the complete banner.

Hang the banner: Find a suitable location to display your banner, such as a wall, doorway, or window. Use adhesive hooks, string, or tape to securely hang the banner in place.
That's it! You have successfully used the free Pokemon banner printable. Enjoy showcasing your customized design for any occasion or event.
Creative ways to display the Pokemon banner at the party
Hang the banner from a string of fairy lights to create a twinkling effect.
Attach the banner to a rustic wooden frame or pallet backdrop.
Use colorful balloons to frame the banner and make it stand out.
Attach the banner to a vintage or antique frame for a classy look.
Create a photo booth area and incorporate the banner as a backdrop for memorable pictures.
Hang the banner from a beautiful, decorative arch or canopy.
Incorporate the banner into a DIY garland by stringing it together with colorful ribbons or paper cutouts.
Attach the banner to a large chalkboard or whiteboard for a customizable display.
Hang the banner between two tall, decorative potted plants to create a natural and visually appealing setting.
Use a banner stand to display the banner at the entrance of the party venue, welcoming guests as they arrive.
Feel free to choose the idea that suits your party theme and venue best.
Looking For The FREE Printable?
Additional Pokemon Party Ideas
Conclusion
In conclusion, throwing a fun and creative Pokemon birthday party is easier than you think! With our free Pokemon banner printables, you can add a special touch to your party decoration setup that will delight your young guests. Remember to have fun and be creative, and your party is sure to be a success!
If you found these printable useful and give them ago, please be sure to share your photos with me over in my private Facebook Group.
If you have any questions, please feel free to leave me a comment below.
*The printables/ clipart are for private use only and are not to be resold & not for commercial use*
**All copyrights and trademarks of the character images used belong to their respective owners and are not being sold**
***I do not claim ownership over the characters used in my designs***
****This post may contain affiliate links which means that, at no additional cost to you, I may earn a small commission if you make a purchase. Thanks so much for your support in this way! You can read my disclosure policy here.