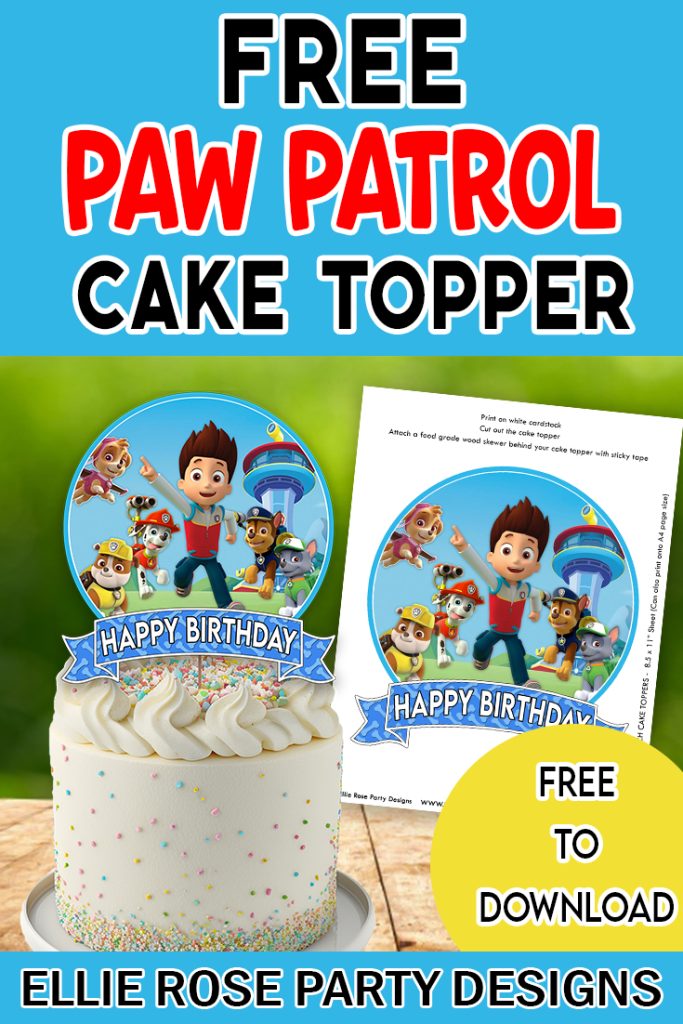 Unleash Your Creativity with a Free Paw Patrol Cake Topper Printable – Get Yours Now!
Planning a birthday party for kids can be quite the task, especially when they're big fans of Paw Patrol. Did you know that Ellie Rose Party Designs offers free Paw Patrol party printables? This blog article is your step-by-step guide on how to use these printables to make your child's party extra special without any hassle.
Let's get started and bring smiles all around!
If you missed any of my other free Paw Patrol printables so far you can check them out here
WHAT YOU WILL NEED
Paw Patrol Cake Topper Printable (link is under "LOOKING FOR FREE PRINTABLE")
Home Printer / Local Printing Store
White Card Stock – this is my favourite glossy paper
Scissors
Sticky Tape
Tips for a Successful Paw Patrol Cake Topper
Choose high-quality paper for printing. Use a sharp pair of scissors or a craft knife for cutting. Securely attach the cake topper to the cake using toothpicks or adhesive.
Choose high-quality paper for printing
When printing the free Paw Patrol cake topper printable, it's important to choose high-quality paper. Opting for a sturdy and thick paper will ensure that your design looks vibrant and doesn't easily tear or wrinkle.
Look for cardstock or photo paper specifically designed for use with inkjet printers.
Using a higher GSM (grams per square meter) paper will also give your cake topper a professional finish. This thicker paper holds up better against moisture from frosting and won't droop or become flimsy on your cake.
It's worth investing in good quality paper to make sure that all the effort you put into creating the perfect Barbie cake is showcased beautifully.
Use a sharp pair of scissors or a craft knife for cutting
To ensure precise and clean cuts, it's important to use a sharp pair of scissors or a craft knife when cutting out your DIY Paw Patrol cake topper. Dull scissors may result in jagged edges or tearing, which can affect the overall appearance of your cake decoration.
By using a sharp tool, you'll be able to cut along the lines more easily and achieve a professional-looking finish. Remember to take your time and work slowly, especially if there are intricate details in the design.
With careful cutting, you'll have a beautifully crafted cake topper that will impress everyone at your next birthday party.
Securely attach the cake topper to the cake using toothpicks or adhesive
To ensure your DIY Paw Patrol cake topper stays in place, securely attach it to the cake using bamboo food grade skewers and adhesive. Gently insert toothpicks into the bottom of the printed design, making sure they are evenly distributed for stability.
Then, carefully press the food grade skewer sharp pointy ends into the top of your cake, arranging them strategically so that they remain hidden beneath the cake topper.
Apply a small amount of adhesive to the backside of your cut-out design and gently press it onto the top of your cake. This will help keep your beautiful Paw Patrol-inspired creation intact throughout the party festivities without any worries!
FAQs
1. How do I use the Paw Patrol cake topper printable?
Using the DIY Paw Patrol cake topper printable is simple. First, download and print the template on cardstock or heavy paper. Then, cut out the design along the outlines provided. Finally, attach a toothpick or bamboo skewer to the back of the cutout using glue or tape, and insert it into your cake for a fabulous finishing touch.
2. Can I customize the colors of the Paw Patrol cake topper?
No! The downloadable template provides a pre-designed cake topper. This download is a PDF file and can not be change. This printable is for personal use only.
3. Are there any tips for making my Paw Patrol cake topper look professional?
For a more polished result, consider laminating or covering your printed design with clear adhesive film before cutting it out. This will give your cake topper added durability and make it look even more professional. The other option is to print out your cake topper with glossy cardstock to give it more of a shine and shimmer.
4. Can I use this Paw Patrol cake topper for cupcakes too?
Yes! The beauty of this free printable is that you can resize it according to your needs. Simply adjust your printer settings so that multiple copies fit on one page if desired, then follow the same steps mentioned earlier – just attach smaller sticks like toothpicks instead of bamboo skewers for cupcakes.
5. Is there anything else available aside from Cake Toppers in the printable download?
Yes! Alongside cake toppers, you'll also discover cupcake wrappers design, birthday party banners and all sorts of other party printables suitable for a DIY decorated party. Click here to find out more
Looking for the FREE TEMPLATE?
To download the free Paw Patrol Cake Topper template from this blog please click the blue button below and you will receive the PDF download.
Should you encounter any digital hiccups along the way, fear not! Just right click on the button below and select SAVE LINK AS
More Paw Patrol Party Ideas
The Paw Patrol cake topper is just the beginning! There are so many other ways to incorporate Paw Patrol into your party theme, like these other free Paw Patrol Printables that we have for you on the blog.
Other ideas could be decorations like balloons and streamers to party favors, the possibilities are endless.
Conclusion
In conclusion, we offer the free Paw Patrol Cake Topper Printable that is perfect for adding some extra fun to any child's birthday party. With its high-quality design and easy-to-use format, this printable is a must-have for DIY cake decorators.
If you found these printable useful and give them ago, please be sure to share your photos with me over in my private Facebook Group.
If you have any questions, please feel free to leave me a comment below.
*The printables/ clipart are for private use only and are not to be resold & not for commercial use*
**All copyrights and trademarks of the character images used belong to their respective owners and are not being sold**
***I do not claim ownership over the characters used in my designs***
****This post may contain affiliate links which means that, at no additional cost to you, I may earn a small commission if you make a purchase. Thanks so much for your support in this way! You can read my disclosure policy here.