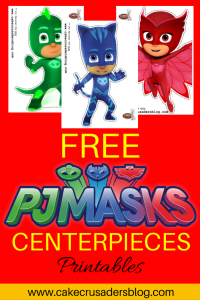 Who goes into the night, so they can save the day?  Who are these heroes, to show you the way?  ELLIE ROSE PARTY DESIGNS!!
Well technically PJ Mask, if you know the words, lol.  But Ellie Rose Party Designs will show you the party way….
Free DIY PJ Mask party decorations printables.  Awesome idea for your kids party table.
I have included Owlette, Gekko and Cat Boy to the list.
Tools you will need:
Printables
Tools & Equipment
​​A4 White card stock:  The ones I use I purchase from my local stationery store, Office Works.  But this  A4 Card Stock paper is perfect to use and print at home.  Also really good quality and strong enough to make your centerpieces.
Wooden Plaque:  ​A must for getting those centerpieces to stand up and be sturdy.  My husband makes mine and he gets it from the local hardware store.  But these Wooden Plaque would work just as well and comes in all different shapes and sizes. 
Wooden Dowel:  This is like the "spine" for the centerpiece.  Helps keep it standing.  A much cheaper and easier way is to purchase them from your local hardware store but if you don't have one near by or would prefer it to be sent to you, try these Wooden Dowels.  
Hot Glue:  ​I use heavy duty Hot Glue, which I purchase from our local hardware store.  I like the nozzle to be thing, so it pores out slower, but any Craft Hot Glue would work fine too.  
Popsicle Sticks:  These are like the "bones" to your centerpieces (lol) .  I get mine from our local craft shop but these Popsicle Sticks are actually way cheaper to buy if you are wanting it in bulk.   
Scissors:  If I am not cutting out my decorations with my Cameo, I am using my really sharp Westcott Craft Scissors.  I purchased mine from Amazon and are really sharp and fit my hands great.  
Printer:  Of course you would need a printer.  If you don't have one at home, try a online printing store or go to your nearest stationery shop that does custom printing.  If you are looking for a good quality printer, this Printer is fantastic with printing A4, A3+ which are great for those 2 foot centerpieces 
Silhouette Cameo:  Most of the time when I am doing large orders and not filming DIY videos for you guys, I am cutting out my party printables/decorations with my Silhouette Cameo.  Easy and super fast
Below please find the DIY video, to show you how to make these centrepieces.  Otherwise a breakdown description is also listed below:
For more free party printables and decorating tips, make sure to subscribe to our Youtube channel!
How to make:
Print out your images on the A4 white card stock.  These images will print on a A4 page
Cut along the dotted line (if you want the white edges) / Make sure you cut the same on both
Hot glue the wooden dowel to the bottom of the image or where you feel it looks best.  (remember to leave some at the bottom, so it can stand up in the wooden plaque, as per the video)
Hot glue your popsicle sticks all over the image to give it more support
Place the wooden plaque into the box
Place your printable centerpiece into the plaque
These printables can be used for other decorations too, not just for your centrepieces (door sign, wall art etc).
Make sure to share on my closed Facebook group. Click below to our group.

PIN IMAGE FOR LATER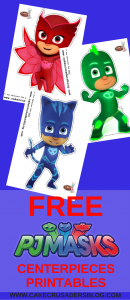 *The printables/ clipart are for private use only and are not to be resold & not  for commercial use*
**All copyrights and trademarks of the character images used belong to their respective owners and are not being sold**
***I do not claim ownership over the characters used in my designs***
****This post may contain affiliate links which means that, at no additional cost to you, I may earn a small commission if you make a purchase. Thanks so much for your support in this way!