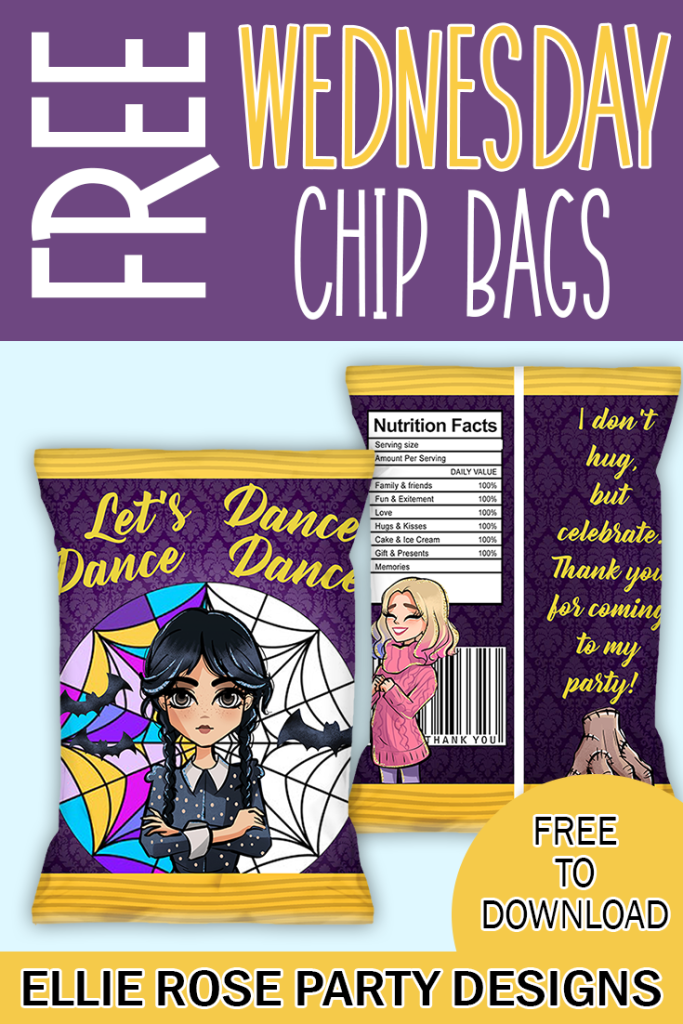 Have a Spooky Celebration with Free Wednesday Addams Chip Bag Printables!
Get Ready for The Grooviest Wednesday Addams Party with These Free Chip Bag Printables | Free Wednesday Addams party favors
Looking for a unique theme for your child's next birthday party? How about a spooky but cute Wednesday Addams inspired celebration? With these free printable chip bags, you can add a touch of Wednesday's quirky personality to your party favors without breaking the bank. No need to worry about the hassle of ordering custom bags and waiting for delivery. You can print these out in the comfort of your own home and have them ready in no time!
Also, if you missed any of my other free Wednesday printables so far you can check them out here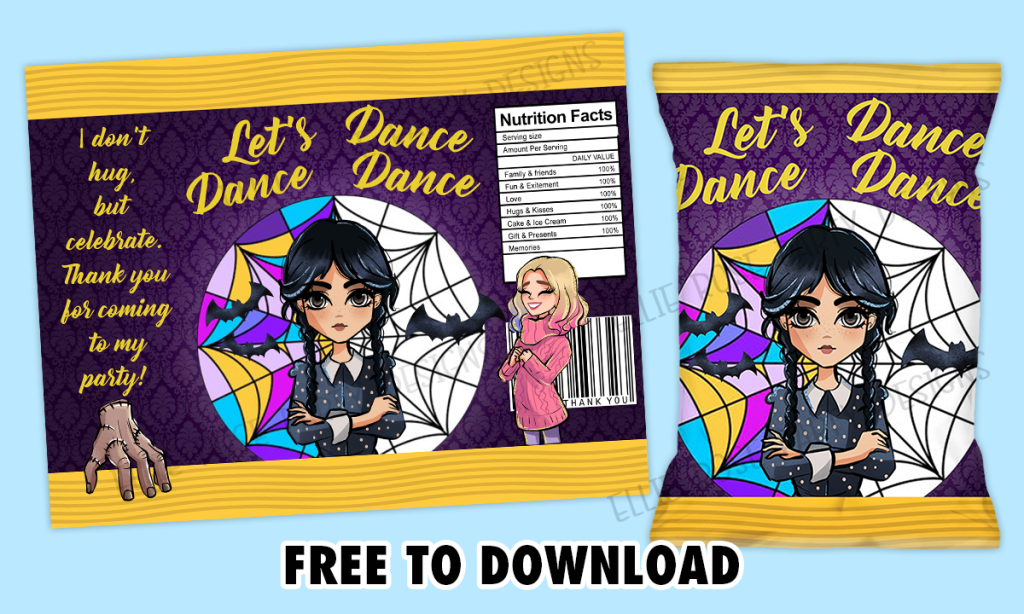 There are a few ways you can use these chip bags. They are not only just for chips. If you want to add lollies or use as a party favor goodie bag that is filled with lots of small toys, you are welcome to do that too.
WHAT'S YOU'LL NEED
Wednesday Chip Bag Printable (link is under "LOOKING FOR FREE PRINTABLE")
Colour Printer or Visit a Local Print Shop
Glossy Brochure paper (80lb) or Letter Size Paper (8.5″x11″ or A4 size)
Paper Crimper – this paper crimper is optional – only if you want to add more of a crimp effect to the ends
Once you have downloaded and printed out your Chip Bags, you will be pleasantly surprised at how quick and easy and how awesome they turn out and I think your friends and family will be just as excited to take them home!
HOW TO ASSEMBLE A CHIP BAG
WANT TO LEARN HOW TO ASSEMBLE YOUR CHIP BAGS?  WATCH MY STEP-BY-STEP TUTORIAL FOR AN EXAMPLE BELOW.
Make sure to subscribe to my Youtube Channel for more party decoration ideas and tutorials.
WHAT'S INCLUDED
Wednesday Chip Bag Templates (the printable is available for free in the printable library – link below under heading LOOKING FOR FREE PRINTABLE)
x1 per page
High Resolution PDF file, 300 dpi
OTHER PARTY IDEAS
Once you have the party favors ready, you can further add to your Wednesday Addams-inspired theme with decorations and snacks. For snacks, you can serve spooky cupcakes, black candy apples or even name the food after some of Wednesday Addams' favorite things, like "Poisonous Punch" or "Creepy Cookies." For decorations, you can hang a banner that says, "Happy birthday from the Addams Family" or place bowls of plastic spiders and cobwebs around the party space.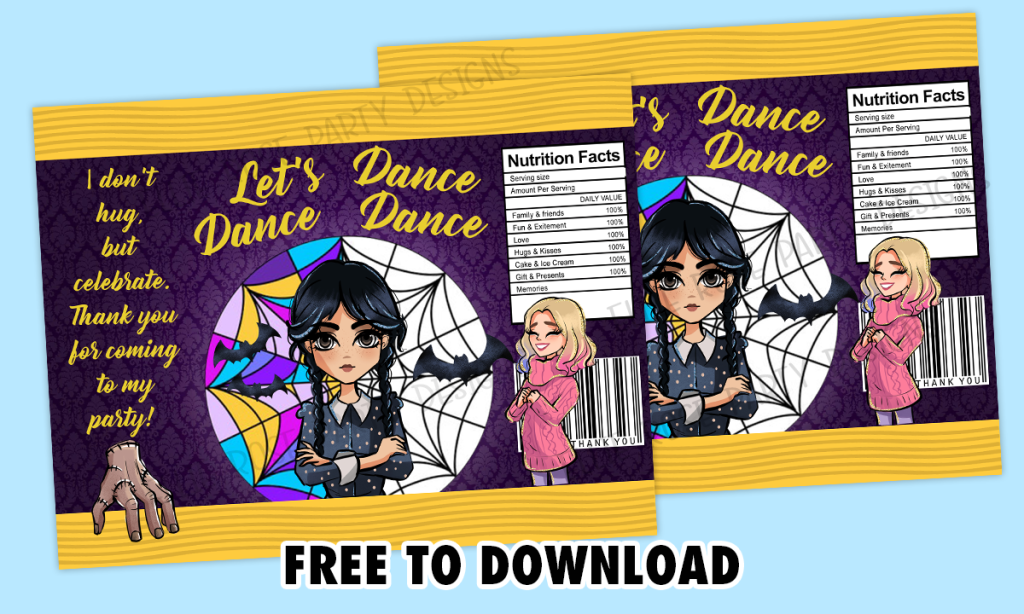 So, what are you waiting for? Download your free Wednesday Addams chip bag printables today and get started on your next hauntingly fun celebration.
I hope you enjoyed this tutorial on how to create your own Wednesday Addams chip bag printables for birthday parties or any other spooky occasion. Remember, these designs can be used in a variety of ways, so don't be afraid to get creative with them. As always, embrace your inner darkness and have fun with it. Until next time, my fellow macabre lovers. Stay spooky!
Looking for the FREE TEMPLATE?
If you found these printable useful and give them ago, please be sure to share your photos with me over in my private Facebook Group.
You May Also Like:
If you have any questions, please feel free to leave me a comment below.
*The printables/ clipart are for private use only and are not to be resold & not  for commercial use*
**All copyrights and trademarks of the character images used belong to their respective owners and are not being sold**
***I do not claim ownership over the characters used in my designs***
****This post may contain affiliate links which means that, at no additional cost to you, I may earn a small commission if you make a purchase. Thanks so much for your support in this way! You can read my disclosure policy here.