Attention, all Wednesday Addams fans!
Are you ready for an unforgettable theme party? If so, you're in luck because we have the perfect invitation for you. This free editable Wednesday Addams party invitation is full of fun and spunk and can be edited in Canva with a special download link. Read on to learn how to create the perfect Wednesday Addams theme party!
Wednesday Addams is one of the most iconic characters of all time, and her unique style has inspired countless fans over the years. Whether you're getting together with friends or throwing a birthday bash, this free editable Wednesday Addams party invitation will make your event truly special.
This invitation features a classic black-and-purple background that evokes Wednesday's signature style. You can customize it with your own text in Canva, making it easy to create a one-of-a-kind look that will wow your guests.
Also, if you missed any of my other free Wednesday printables so far you can check them out here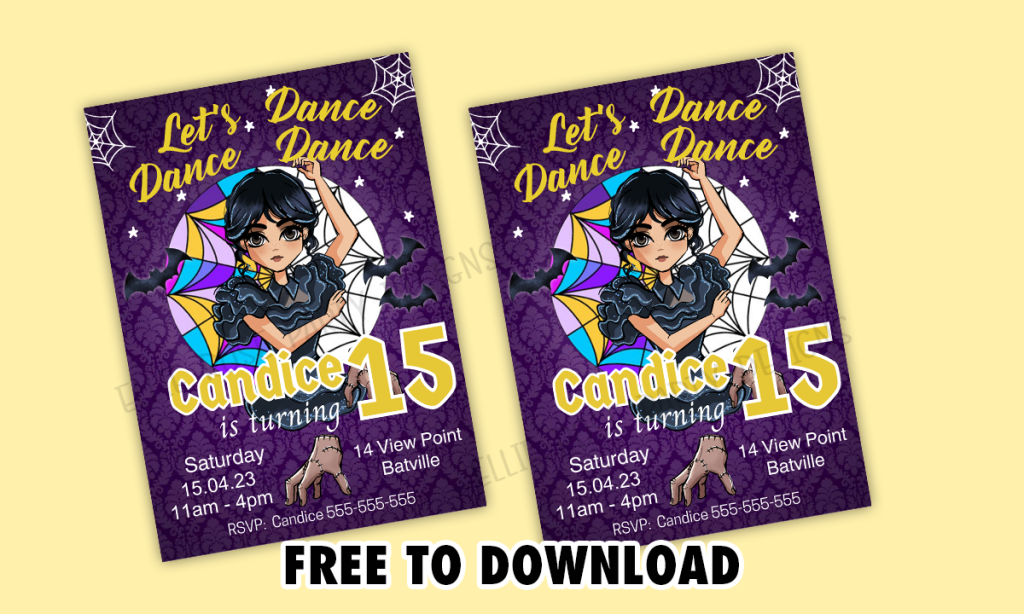 WHAT'S INCLUDED
1X Wednesday Invitation 5×7 Templates
High Resolution PDF file, 300 dpi
Direct link to template
Step by step video tutorial below
HOW TO EDIT YOUR INVITATION IN CANVA
WANT TO LEARN HOW TO EDIT YOUR INVITATION IN CANVA?  WATCH MY STEP-BY-STEP TUTORIAL BELOW.
Make sure to subscribe to my Youtube Channel for more party decoration ideas and tutorials.
1. Download your PDF files (find it under LOOKING FOR FREE PRINTABLE heading)
2. Once the pdf file is open click on the pink button on the second page that says "Click To Edit Invitation" button. You will be directed to the template file which you can edit. Note that a free canva.com account is required to edit the file, you can sign in or create a new account
3. Get Canva Pro for free: When using my link, you can benefit from 30 days of Canva Pro free trial 🎉🎉
Click here 👉 https://partner.canva.com/k00yXM (affiliate link)
4. Done, you can now edit your template, its fast and easy, enjoy.
5. For web: Click "share" (on top right), click "download", select "png" or "jpg" on file type, click download, done!
For print: Click "share" (on top right), click "download", select "pdf print" on file type, click download, done!
** PLEASE NOTE **
Please find the download under the heading "LOOKING FOR THE FREE TEMPLATE?"
You will receive a link where you can edit and personalize the template on canva.com
Graphics and backgrounds cannot be edited or changed. Only the text can be edited
Text can be added or moved around
Font size, colour and style can be changed (desktop and laptop only)
Save as a jpg file for photo printing (Walgreens, Walmart)
Save as a pdf file for home and digital printing (Staples, Office Depot, OfficeMax)
You can edit and print the template as often as you like for personal use. All templates are for personal use only and cannot be resold, shared or used commercially
You can edit this template via canva.com using your browser on a desktop, laptop, tablet or phone devices. No additional software is needed.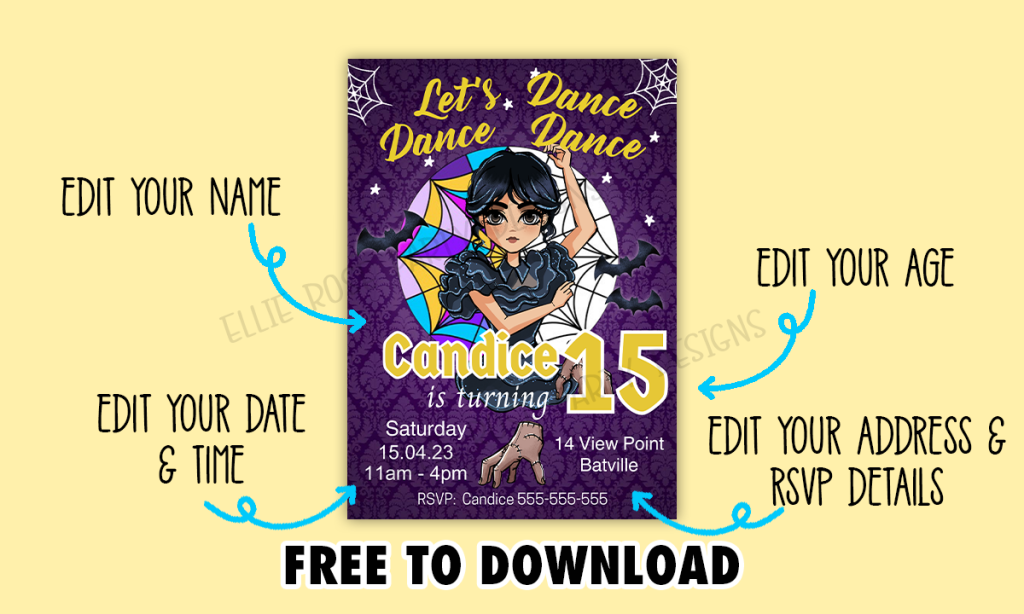 If you're looking for an unforgettable way to bring some spooky fun into your life, this free editable Wednesday Addams party invitation is just what you need. Customize it in Canva using our convenient download link and get ready to celebrate in style! From creepy decorations to ghoulish treats, this themed event will be sure to delight everyone who attends — so don't wait another minute and get started on creating the perfect Wednesday Addams theme party today!
Looking for the FREE TEMPLATE?
To download the free Wednesday template from this blog please enter your details below and you will receive the PDF download with the custom link and also a welcome email with the password to the printable library!
You May Also Like:
If you found these printable useful and give them ago, please be sure to share your photos with me over in my private Facebook Group.
If you have any questions, please feel free to leave me a comment below.
*The printables/ clipart are for private use only and are not to be resold & not  for commercial use*
**All copyrights and trademarks of the character images used belong to their respective owners and are not being sold**
***I do not claim ownership over the characters used in my designs***
****This post may contain affiliate links which means that, at no additional cost to you, I may earn a small commission if you make a purchase. Thanks so much for your support in this way! You can read my disclosure policy here.