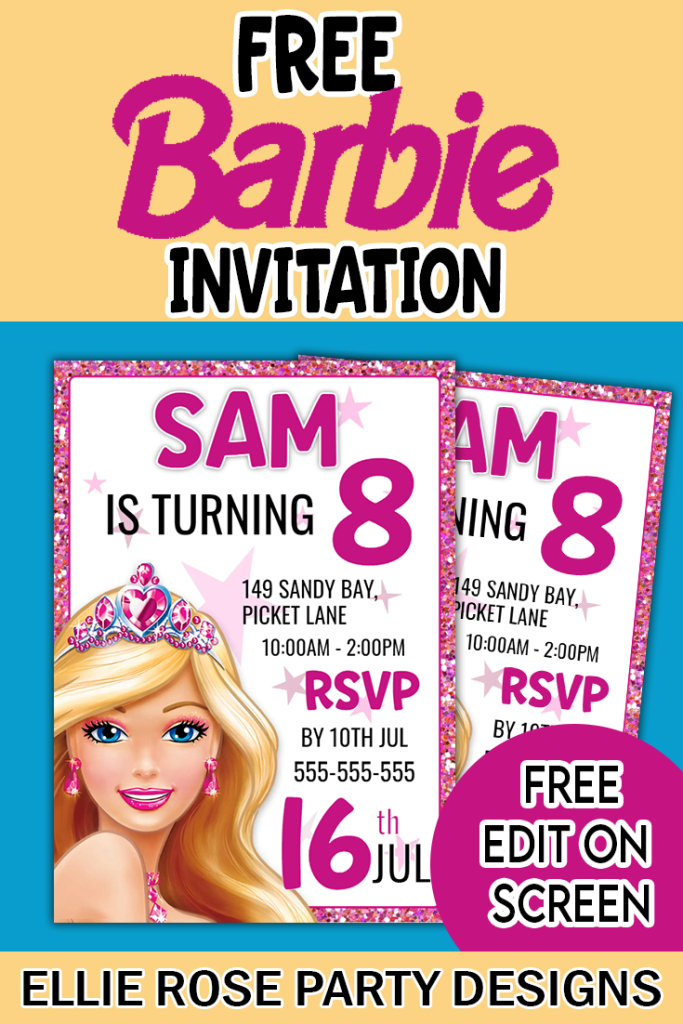 Free Printable Barbie birthday Invitation Template: Create Stunning Invitations for the Perfect Celebration
Are you ready to create the perfect Barbie birthday party? Add some flair to your celebration with a free printable Barbie birthday invitation template!
With just a few clicks, you can easily customize your own unique invitation templates.
Design a barbie invitations with a personal touch for little girls with a classic Barbie inspired party theme. Whether it's pink and sparkles or something more
Also, if you missed any of my other free Barbie birthday party ideas printables so far you can check them out here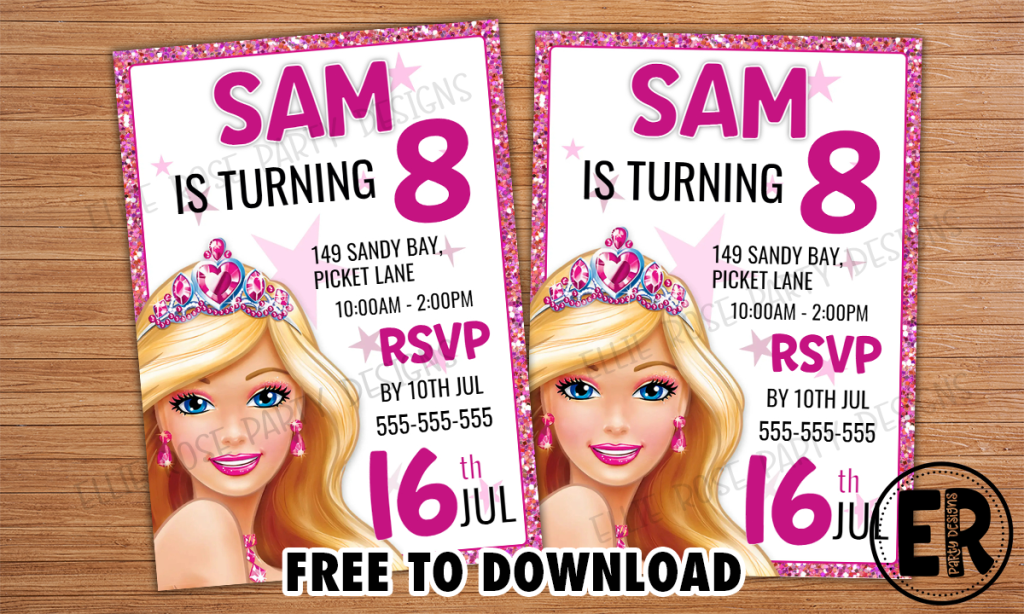 WHAT'S INCLUDED
x1 Barbie Birthday invitation 5 X 7
Print or Send Digitally (or both)
Enjoy 24/7 access to your custom design
High Resolution file, 300 dpi
Instant access to template
Step by step video tutorial below
To design and edit your invitation we are going to use our free online custom editor software. If you are needing a tutorial on how to use the editor, please watch the video provided for you below and then scroll down to the invitation
HOW TO EDIT YOUR INVITATION TUTORIAL
WANT TO LEARN HOW TO EDIT YOUR INVITATION IN CANVA?  WATCH MY STEP-BY-STEP TUTORIAL BELOW.
Make sure to subscribe to my Youtube Channel for more party decoration ideas and tutorials.
Edit your CUSTOM invitation below:
Customize your Barbie Birthday invitation template free
Graphics and backgrounds cannot be edited or changed. Only the text can be edited
Text can be added or moved around
Font size, colour and style can be changed (desktop and laptop only)
Save as a jpg file for photo printing (Walgreens, Walmart)
Save as a pdf file for home and digital printing (Staples, Office Depot, OfficeMax)
You can edit and print the template as often as you like for personal use. All templates are for personal use only and cannot be resold, shared or used commercially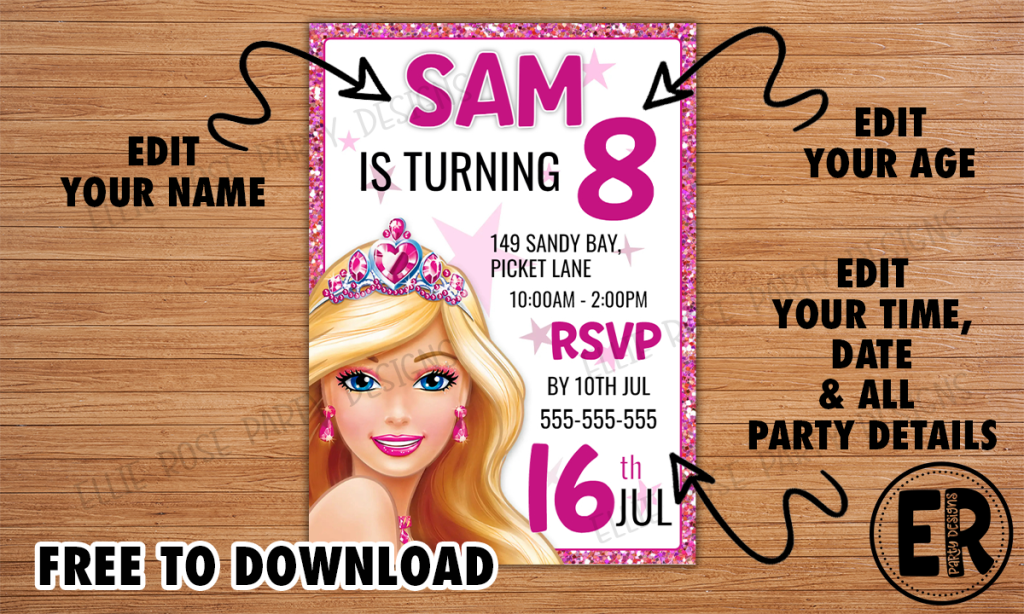 Share The Barbie Birthday invitation template In Multiple Ways
Once you are done editing the invitation, you have to decide how to distribute it to your guests.
You can choose to print the invitation or share it via social media, email or messaging app to make it easier for you and your guests.
To ensure that your invitation looks its best, use high-quality cardstock paper that's available at most local office supply stores.
You can also choose to print the invitation on a glossy photo paper to give it a more polished look.
The other option is to have your invitations printed professionally and have them shipped. Normally there is a shipping cost involved with this one.
Tips For Throwing A Barbie birthday
Now that you have taken care of the invitation, let's shift to the party itself.
If you want to throw a memorable barbie birthday party, a themed party is the way to go, and what better theme than a Barbie-themed party for your daughter and her friends!
You can create a custom Barbie birthday party using Barbie birthday decorations, activities, games and refreshments.
Carrying out the theme throughout the party is not only fun, it also creates an excellent backdrop for a day filled with wonderful memories.
Conclusion
In conclusion, if you are looking for a creative way to make your daughter's special day extra special, then download our Barbie Invitation for free.
FAQs
When should I send my child invitations?
It's recommended to send out your barbie birthday invitations about three to four weeks before the party date.
This gives your guests enough time to RSVP and plan accordingly.
If you're planning a larger event, you might consider sending them out a bit earlier to ensure everyone has plenty of notice.
Additionally, if you're inviting guests who live far away or have busy schedules, it's a good idea to give them even more advanced notice.
What information should I include on my barbie invitation?
When creating barbie invitations, it's important to include all necessary personalized text information while still making them visually appealing and fun for kids.
Common information to include on a barbie invitations includes the child's name and age, date and time, location and directions, RSVP information, and any special instructions or details about the theme or activities.
How many invitations should I send out?
When sending out birthday invitations, it's important to consider the size of your guest list and the party space. As a general rule, it's best to invite around the same number of children as your child's age, but this can vary depending on your preferences and budget.
Should I include RSVP information on the invitation?
To ensure a smooth RSVP process, include an RSVP deadline on the invitation and specify whether parents are invited or not.
Should I provide specific instructions or a theme for what guests should wear to the party?
Providing specific instructions or a theme for what guests should wear to the party can also be helpful. If you're concerned about not having an exact headcount, consider asking guests to RSVP with a "maybe" response so you can plan accordingly.
You May Also Like:
If you found these printable useful and give them ago, please be sure to share your photos with me over in my private Facebook Group.
If you have any questions, please feel free to leave me a comment below.
*The printables/ clipart are for private use only and are not to be resold & not  for commercial use*
**All copyrights and trademarks of the character images used belong to their respective owners and are not being sold**
***I do not claim ownership over the characters used in my designs***
****This post may contain affiliate links which means that, at no additional cost to you, I may earn a small commission if you make a purchase. Thanks so much for your support in this way! You can read my disclosure policy here.