My little girl was CRAZY about Mickey mouse and his clubhouse friends.  So when it came time to organise my daughter's first birthday party, it wasn't a surprise that we decided on the Mickey mouse clubhouse theme.
But with money tight, we knew we couldn't spend 100's of dollars on our child's birthday party, especially when all she will be interested in is playing with her friends and eating her cake for the first time.
So when the time of her party came closer, we decided to do things DIY and on a budget.  $200AU budget to be exact.  Of course, mom still wanted it to look cute and not make it look like it was on a budget (as it's her daughter's first birthday after all).  So I decided to start "pinning" ideas on what I could do myself.  And that is how it all started and was the money saver!  Doing everything myself including the invitations (digital), centrepieces and cupcake wrappers.
I do have a background in cake decorating, so the cake part was easy for me and I didn't have to pay anyone to make it for me, which worked out in my favour with our budget.
But how is this only going to cost me under $200, your thinking??
Well, Ellie Rose Party Designs has decided to share all of the Mickey Mouse decoration templates  for you to enjoy for FREE.  Step-by-step instructions are included.  Some templates are the exact same as in the pictures and some I have changed and come up with other ideas.
So the only money you'll be spending is on your food/drinks and printing and putting together your decorations and of course the party favors.
The only things I would say that might take it over the budget is if you choose to have a backdrop, have someone make your cake for you (maybe you have a family member or a friend that can help make and decorate a cake) or if you have rented a space for the party.
The backdrop we had for our party, I purchased off a lady on Etsy and then had it printed and laminated at our local printing shop.  It cost about $60.  The size of the backdrop was  AO size which is aprox 33″ x 46″ or 841mm x 1189mm.
The cake I made for my daughter's party (as seen in the photos) was a "dummy cake", which meant that no one could eat it.  It was only for show and for great photos when blowing out her candles.  It was a HUGE "cake" and knew that it would've be way too much if I made a cake and cupcakes.  The other reason I made a "dummy cake" was I find kids tend to enjoy cupcakes a lot more.  Plus they are easy to eat and you don't need plates or forks and minimal cleaning.  Another bonus tip.  =)
The location was at my parents house.  So there was no renting fee.. bonus ✔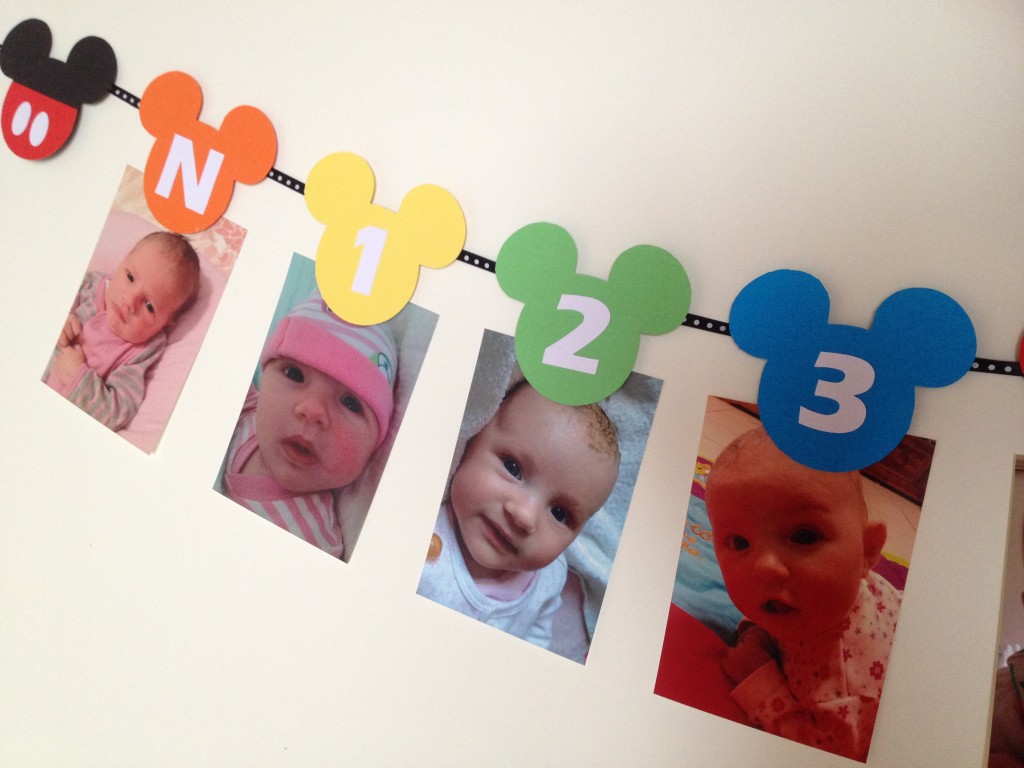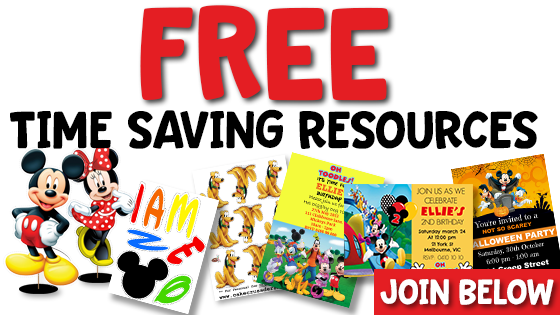 Looking for the free printables?
The free Mickey Mouse Surprise Boarding Passes printable from this blog post is located in the Ellie Rose Printable Library.  The library is a password protected page for all subscribers.  Not a subscriber?  No problem! Just enter your details below and you will receive a welcome email with the password to log in!
Well I really do hope you like this blog post and it helps you with your Mickey Mouse party planning.
Make sure to share you party setup and pictures with me over in my private Facebook Group.
If you have any questions, please feel free to leave me a comment below.
Thanks,
Sam xx
*The printables/ clipart are for private use only and are not to be resold & not  for commercial use*
**All copyrights and trademarks of the character images used belong to their respective owners and are not being sold**
***I do not claim ownership over the characters used in my designs***
****This post may contain affiliate links which means that, at no additional cost to you, I may earn a small commission if you make a purchase. Thanks so much for your support in this way! You can read my disclosure policy here.