From Trick or Treat to Tea Time: Uncover the Best Free Halloween Dramatic Play Printables Now!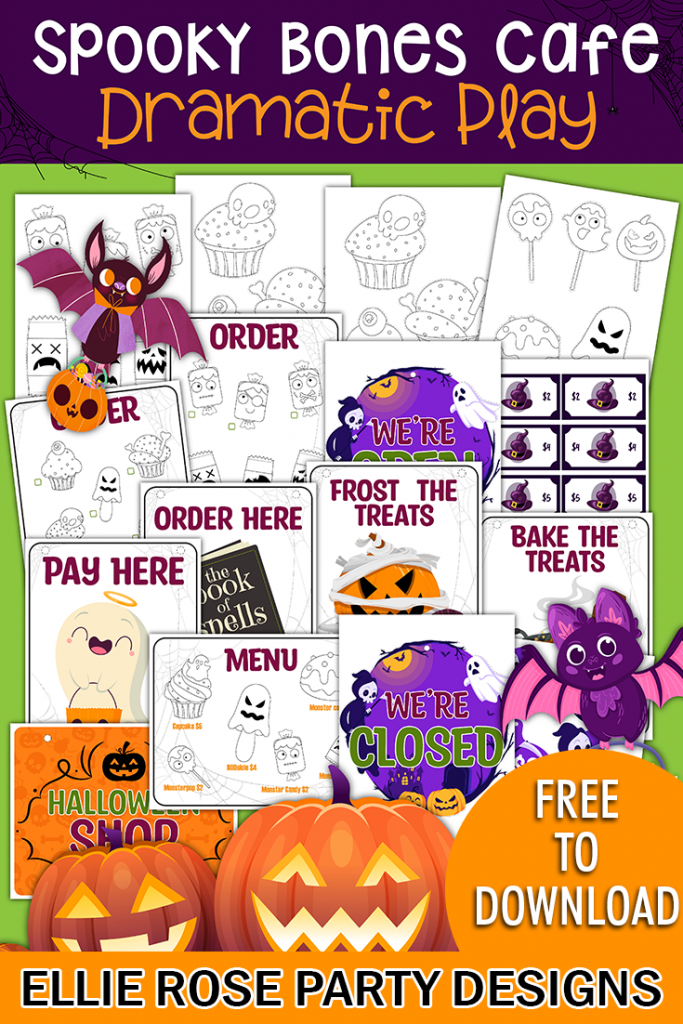 With Halloween fast approaching, you might be looking for ways to get your kids in the spooky spirit. One way to do this is through play! Whether it's for homeschooling or just for fun, pretend play is a great way to encourage your child's imagination and creativity. And what better way to celebrate Halloween than with a fun and festive cafe? In this blog post, we'll be sharing some free Halloween Dramatic play / pretend play, dramatic play cafe printables that are perfect for kids of all ages. So, let's get started!
Ready to brew some magical memories this Halloween? Read on!
The Benefits of Halloween Dramatic Play
Halloween Café Dramatic Play offers various benefits such as enhancing imagination, promoting social development, developing language skills, and encouraging problem-solving.
Enhances imagination and creativity
Playing Halloween Café helps your child dream big. They think of cool ideas for their spooky café. Your kid may serve ghost cookies or bat soup! Every pretend game boosts your child's creative mind.
Such play sparks new thoughts and fun ways to solve things. With this, the kids grow smarter with each play session!
Promotes social and emotional development
Playing Halloween Café makes kids learn how to work with others. They can play as a team and share tasks. This helps them get better at making friends. They also get to know about feelings when they pretend to be different characters.
Your child learns how to manage emotions through play, too. If they feel scared during the game, they will find ways to cope up with that fear. These skills will help them in real life as well.
Develops language and communication skills
Playing in a Halloween Café helps kids learn words and speak better. They talk while they pretend to cook, serve, or eat spooky food. In this fun play, kids get to ask and answer questions.
They tell stories about their role in the café. This boosts their speaking skills!
Encourages problem-solving and decision-making
Halloween café dramatic play is not only fun, but it also helps your child develop important skills like problem-solving and decision-making. When they pretend to be a cafe owner or customer, they have to make choices and think of solutions on their own.
They might have to decide what items to put on the menu or how much money something costs. This kind of play encourages them to use their imagination and come up with creative solutions.
So, let your child enjoy Halloween café dramatic play and watch as their problem-solving skills grow!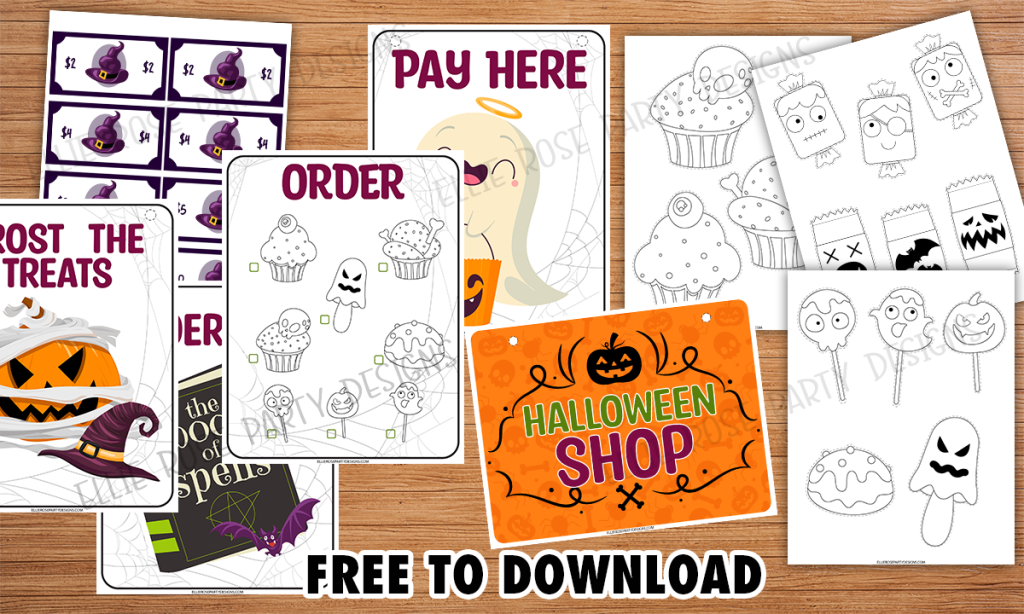 What You Will Need
Halloween Cafe Printable Pack (link is under "LOOKING FOR FREE PRINTABLE")
Home Printer / Local Printing Store
White Card Stock or Regular Printing Paper
Scissors
Sticky Tape
What's Included In The Printable Pack
Printable Menus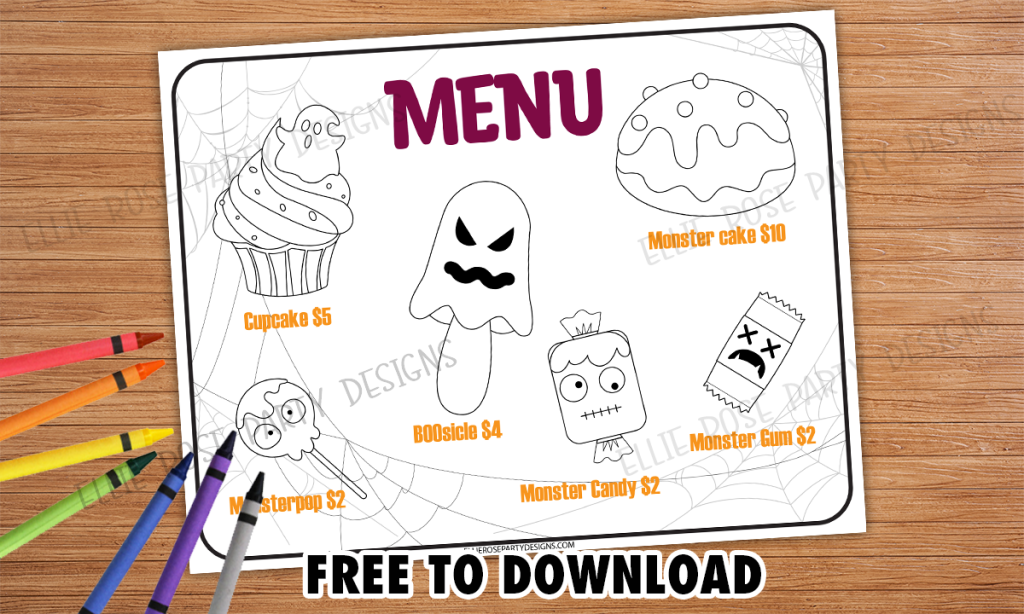 The first thing you'll need for your pretend play café is a menu. We've created some fun Halloween-themed menus that are both colorful and easy to read. Each menu includes items like "monster cakes," "monster pops," and "boosicles." Your child can use these menus to take orders from their friends or stuffed animals.
Play Money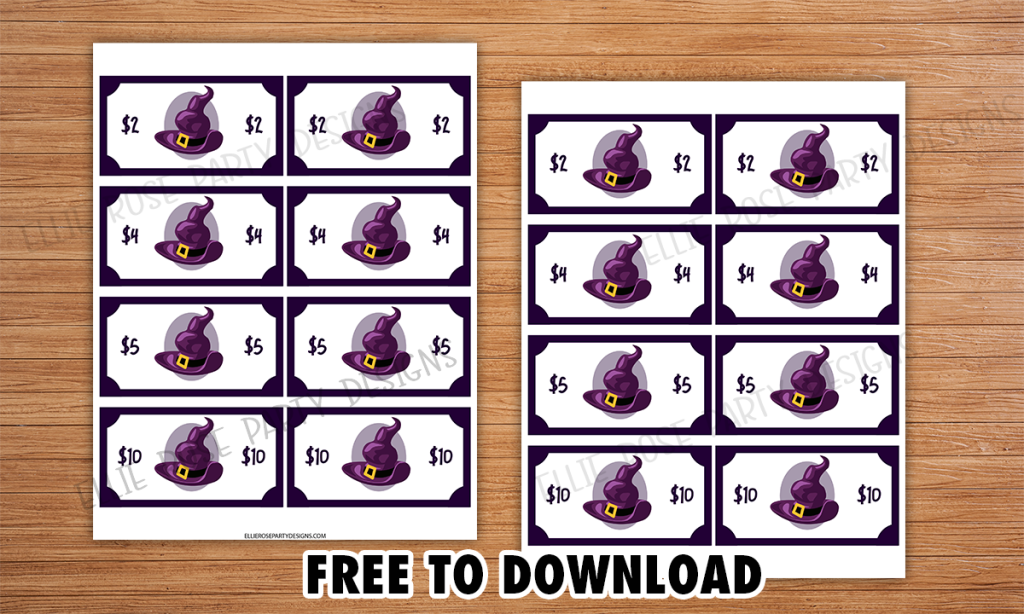 No café is complete without play money! We've created some spooky dollar bills in denominations of two, four five, and ten. Your child can use this money to make change and practice their math skills. Plus, it adds a fun element of realism to the pretend play experience.
Shop Signs
If you really want to make your pretend play cafe stand out, you'll need some signs! We've created some fun, eye-catching signs that can be hung on the walls or placed on the tables. These include signs like "cafe open," "beware of ghosts," and "spooktacular specials." Your child can use these signs to decorate their play space and get into the Halloween spirit.
Pretend Printable Food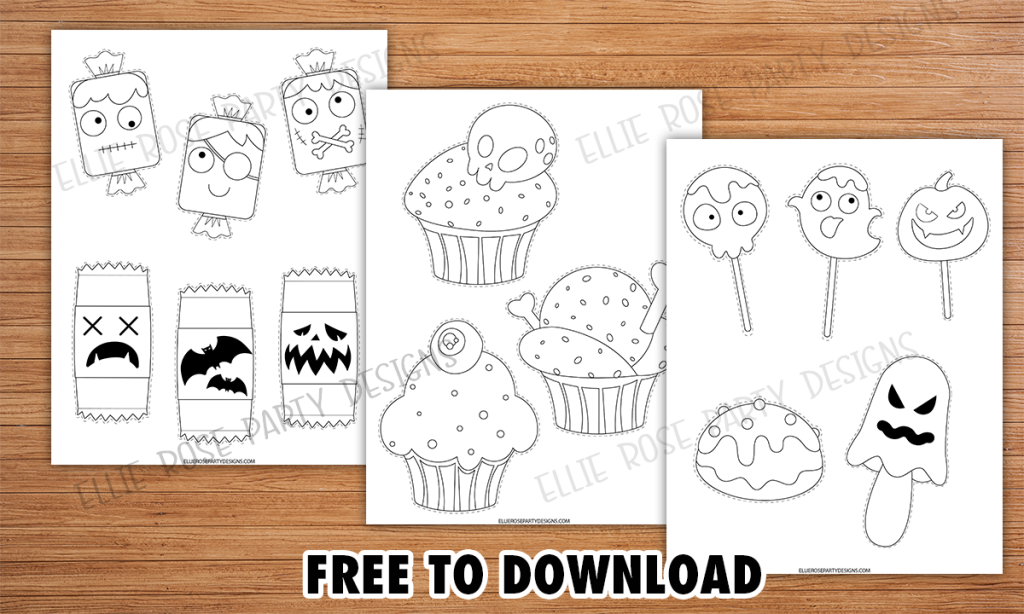 To make your pretend play cafe feel even more authentic, we've included some pretend play food printables for each of the menu items. These printables can be colored in and made as bright and colorful as you want
Other Printables Included
Finally, we've included some extra printables to the pack to make it that little more special. We have included a open and close sign and price tags to go with your goodies.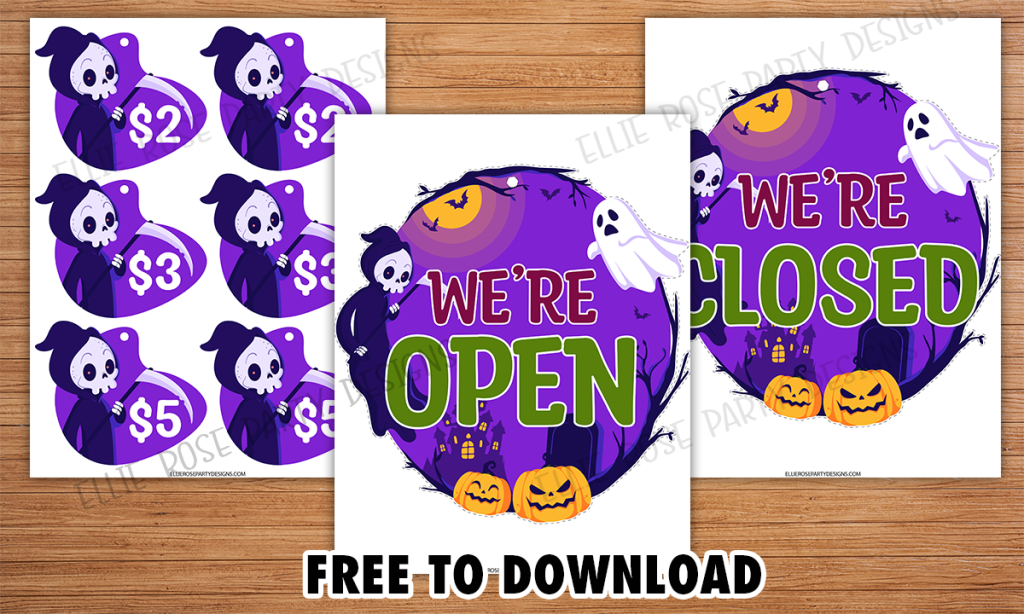 LOOKING FOR YOUR PRINTABLE
To download the free Halloween Café Printable Pack from this blog please click the button below and your printable pack will automatically begin to download! If you are having trouble downloading try, right clicking on the button and select SAVE LINK AS.
---
Conclusion
With these free Halloween pretend play, dramatic play cafe printables, your child's imagination is the limit! Whether they're hosting a party for their stuffed animals or playing with friends, these printables are sure to provide hours of spooky fun. And the best part? They're all totally free! So, get printing and let the Halloween festivities begin. Happy haunting!
FAQs
1. What are Halloween Café Dramatic Play Printables?
Halloween Café Dramatic Play Printables are fun and free materials you can print for pretend play ideas during Halloween.
2. Where can I find free café printables for dramatic play during Halloween?
All the information for downloading these free Halloween Cafe Dramatic Pretend Play printable can be found above under the heading "Looking for the free printables?"
3. Can I use the same printables for a bakery-themed dramatic play?
Yes, you certainly can! Here is our dramatic play bakery printables / ice-cream printables free of charge available online as well.
4. Are there other ideas aside from a café or bakery theme for my Halloween pretend play?
Absolutely! The internet is full of different Halloween pretend play ideas which you could use alongside your halloween cafe or bakery themed ones.
You May Also Like:
If you found these printable useful and give them ago, please be sure to share your photos with me over in my private Facebook Group.
If you have any questions, please feel free to leave me a comment below.
*The printables/ clipart are for private use only and are not to be resold & not for commercial use*
**All copyrights and trademarks of the character images used belong to their respective owners and are not being sold**
***I do not claim ownership over the characters used in my designs***
****This post may contain affiliate links which means that, at no additional cost to you, I may earn a small commission if you make a purchase. Thanks so much for your support in this way! You can read my disclosure policy here.