The holiday season is here, and what better way to get everybody excited than an indoor Christmas scavenger hunt printable for kids? This fun activity can be done with your whole family in the comfort of your own home. Who said that the wintertime has to be boring? Get your children off the couch and start searching for their clues! Not only is this a great way to create lasting memories, but it is also free to print out. So run over to your computer and get ready for some exciting holiday surprises!
If you're looking for some more free Christmas printables to use with the kids, you can check them out here
How To Play Indoor Scavenger Hunt
This fun indoor scavenger hunt game can be played with as few as two players or as many as your entire household. To get started, download and print out our free scavenger hunt printable (link down below). Then it's time to hide all the "clue cards". Hide your clue cards. All the clue cards have numbers on them and will need to be hidden in order of the cards. Start with the Clue No. 1 card and follow the clue numbers from there. Give the first clue card (Clue No. 1) to your players and once everyone is ready, let the hunt begin!
Players will read the first clue and go from there looking around the house to find the next clue to read. When all 12 clues are found the hunt is complete. At the end of the game your players will receive their surprise. Hiding the surprise with clue 12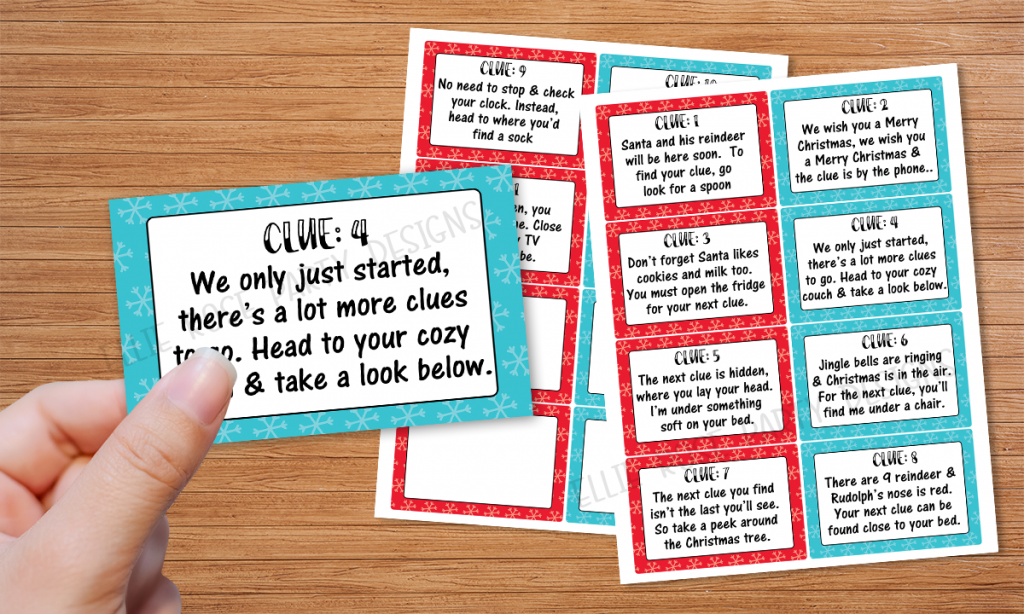 What's Included in the Download
x2 Scavenger Hunt Printable PDF  – 8.5″ x 11″ Letter-Size or A4
x1 High Resolution PDF file, 300 dpi – all printables packed into one PDF
You Will Need
Scavenger Hunt Printable – link to download is below
Printer or Visit a Local Print Shop
Scissors
Surprise Prize for the end of the clue
After you have downloaded and printed and cut out your Indoor Christmas Scavenger Hunt printables , all you need to do is hide your clue cards. It's super easy and quick and I think your littles ones will be just as excited to find them and play the game!
Our free indoor Christmas scavenger hunt printable is a perfect way to keep kids entertained during the Winter holidays. It's easy-to-set-up, just print, cut and hide your printables —so why not give it a try? Get your family together and go on a festive search through your home—you just might find more than what's on your list! Have fun!
Looking for the free printable?
The free Christmas printable from this blog post is located in the Ellie Rose Printable Library.  The library is a password protected page for all subscribers.  Not a subscriber?  No problem! Just enter your details below and you will receive a welcome email with the password to log in!
Recommend