DIY Barbie Chip Bags: The Perfect Free Barbie Party Favors
Planning a Barbie-themed party for your little one? We've got just the thing to make it extra special! Introducing our free Barbie party favors chip bag, the perfect addition to delight your guests. With a creative and friendly tone, this blog post is designed to captivate parents who are seeking unique and cost-effective ideas for their child's celebration. So, gather up those Barbie dolls and get ready to impress your guests with these adorable and free party favors. Let's dive right in and discover how to make your Barbie party truly unforgettable!
Also, if you missed any of my other free Barbie printables so far you can check them out here
There are a few ways you can use these Barbie party favors chip bags. They are not only just for chips. If you want to add lollies or use as a party favor goodie bag that is filled with lots of small toys, you are welcome to do that too.
What are Barbie chip bags?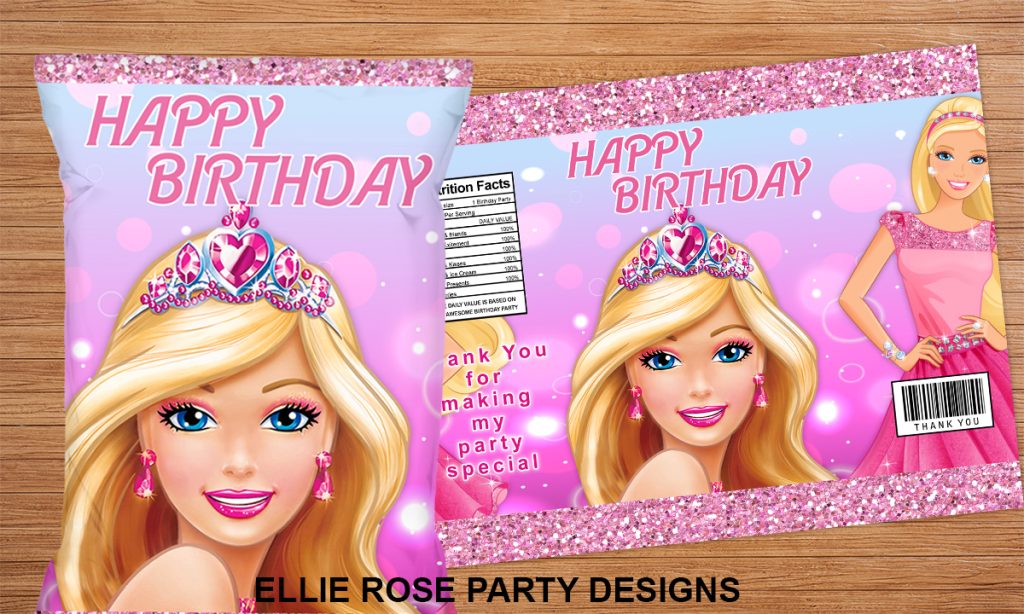 To start things off, it's important to understand what Barbie party favors chip bags are! Chip bags are small snack-sized bags that are perfect as a party favor that hold goodies like chips, candy, or even small toys. They're usually decorated with a fun and colorful design, and our Barbie party favors chip bag printables are no exception! These bags feature everyone's favorite Barbie characters, including glitter and sparkle, which your guest will love.
What You Will Need
Barbie Party Favors Chip Bag Printable (link is under "LOOKING FOR FREE PRINTABLE")
Colour Printer or Visit a Local Print Shop
Glossy Brochure paper (80lb) or Letter Size Paper (8.5″x11″ or A4 size)
Paper Crimper – this paper crimper is optional – only if you want to add more of a crimp effect to the ends
How to download and assemble the chip bags
Below please find a step by step video tutorial on how to assemble your chip bags
Downloading and assembling your very own Barbie chip bags is easy! Simply scroll down the blog post to the heading "looking for free printable" and click the button to download the free printable design.
Once downloaded, print out the design onto your preferred printing paper. Our favourite paper for printing chip bags are glossy brochure paper. This paper makes the chip bags look more realistic and glossy. Then, cut out the white part of the paper that is on top and at the bottom. Do not cut the white parts on the sides. Fold it along the designated lines as shown in the image above. Use double-sided tape to secure the bag's edges, and the bottom edge and voila! You now have your very own Barbie chip bag ready to be filled with delicious treats.
Once you have downloaded and printed out your Chip Bags, you will be pleasantly surprised at how quick and easy and how awesome they turn out and I think your friends and family will be just as excited to take them home!
How To Assemble Tutorial
WANT TO LEARN HOW TO ASSEMBLE YOUR CHIP BAGS? WATCH MY STEP-BY-STEP TUTORIAL FOR AN EXAMPLE BELOW.
Make sure to subscribe to my Youtube Channel for more party decoration ideas and tutorials.
What's Included
Barbie Party Favors Chip Bag Templates (link below under heading LOOKING FOR FREE PRINTABLE)
x1 per page
High Resolution PDF file, 300 dpi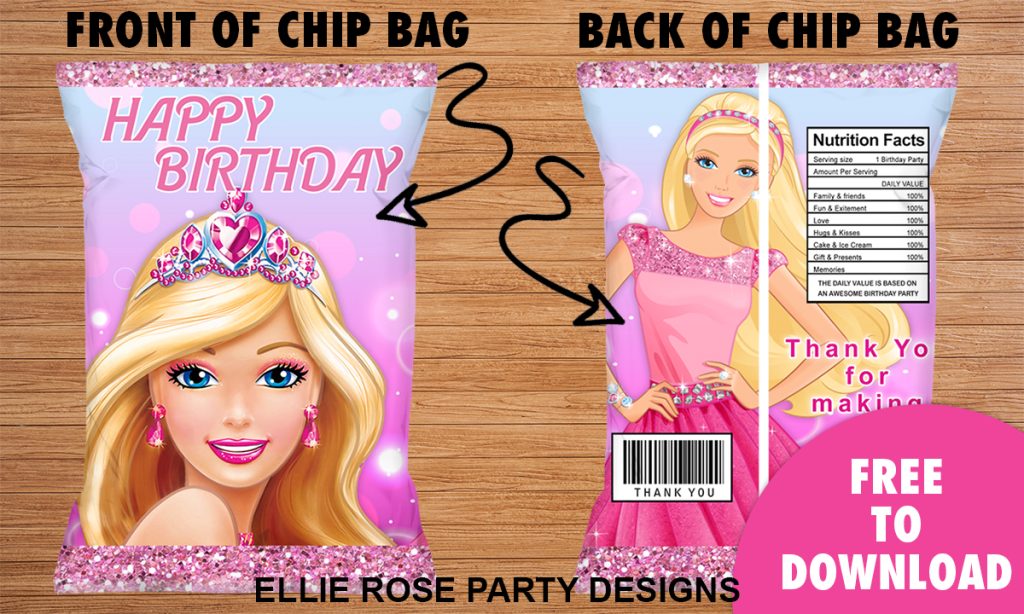 Ideas for filling your Barbie Party Favors chip bags
Now that you've assembled your chip bags, it's time to fill them with goodies! Popcorn, candy, and small toys are all great options. You could even tailor the treats to the theme of your party, such as by including pink and yellow candies to represent Barbie favourite color. Adding a little note with a cute Barbie pun is also a great touch, such as "Thank you for joining my Barbie party! It was a dream come true to have you there!"
Incorporate Barbie-themed activities and games
Make your Barbie-themed celebration even more exciting by incorporating a variety of Barbie-themed activities and games. Set up a fashion show where the kids can strut their stuff in their own homemade outfits, or have a Barbie scavenger hunt where they search for hidden Barbie accessories.
You could also organize a dance party with all their favorite Barbie songs or host a DIY crafts station where they can create their own Barbie-inspired jewelry or tiaras. These activities will keep the children entertained and add an extra touch of fun to your Barbie party!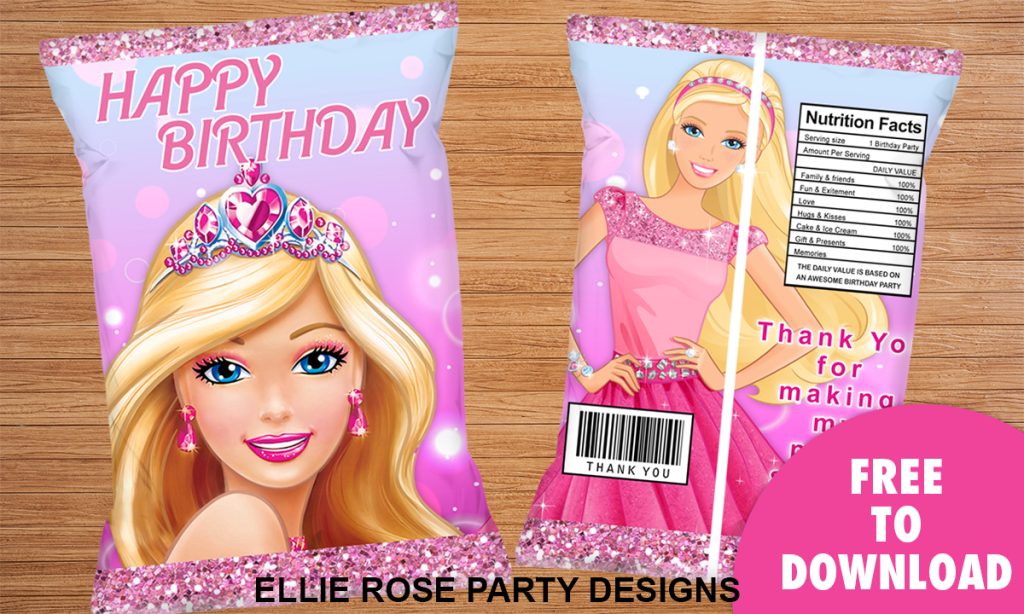 In conclusion, throwing a fun and creative Barbie birthday party is easier than you think! With our free chip bag printables, you can add a special touch to your party favors that will delight your young guests. Remember to have fun and be creative, and your party is sure to be a success!
Looking for the FREE TEMPLATE?
Other Barbie Party Favors Ideas
Below are some printables I recently shared of some other birthday party ideas that all the kids love. These can also be used on the dessert table for your Barbie party. I've included some free Barbie party decoration printables that will take your party to the next level! So, if you're planning a Barbie-themed celebration, be sure to check out these free template for your next birthday parties for even more inspiration and resources. Let's catch 'em all!
Decorating your party space with additional Pokemon birthday party decorations, such as balloons, banners, and centerpieces could also be great. You could also plan fun activities for your young guests, such as a scavenger hunt for Pokemon toys or a pinata filled with candy and small prizes. Don't forget to include party favors too, such as small Pokemon toys or paper crowns featuring your child's favourite characters.
FAQs
1. What are Barbie party favor chip bags?
Barbie party favor chip bags are DIY, printable treat bags used as handmade party favors for a Barbie-themed celebration.
2. How can I use the free Barbie chip bag template?
To use the free Barbie chip bag template, follow these steps:
Download the template file by clicking the pink button above.
Save the chip bag PDF design on your computer.
Print the chip bag using a printer or send it to a professional print shop.
Cut out the printed design along the designated edges and fold it into a chip bag shape. Step-by-step video tutorial is attached
Secure the edges using glue, double-sided tape, or adhesive tabs.
Fill the chip bag with your desired snacks.
3. Can I only put chips in these Barbie Party Favor Bags?
No! These homemade chip bags are perfect for snacks of all kinds, not just chips.
If you found these printable useful and give them ago, please be sure to share your photos with me over in my private Facebook Group.
If you have any questions, please feel free to leave me a comment below.
*The printables/ clipart are for private use only and are not to be resold & not for commercial use*
**All copyrights and trademarks of the character images used belong to their respective owners and are not being sold**
***I do not claim ownership over the characters used in my designs***
****This post may contain affiliate links which means that, at no additional cost to you, I may earn a small commission if you make a purchase. Thanks so much for your support in this way! You can read my disclosure policy here.